US Parks
Opened in 2009 Manta is the third B&M coaster at Seaworld in Orlando. Manta is the second flying coaster I have ridden after Air at Alton Towers in the UK. I really enjoyed Manta and at the time of year we visited in September the ride had hardly any queues.
For anyone who hasn't rode I would recommend the back seat, its very intense and enjoyable.
I don't really have that much more to say about Manta other than if your in Florida and you get the change to ride it, enjoy it 😉
I have been requested by a few visitors to include some pictures from my trip to Florida last year and if im honest Ive been a bit lazy posting some of these, one request is for Journey to Atlantis at Sea World.  I didn't get to ride this due to an ear infection picked up earlier in the week on some water other water rides. For anyone planning on visiting Seaworld in the near future from the reports Ive had its not a ride to be missed.
Originally installed in 1998 by Mack rides Journey of Atlantis is clased as a water coaster or as some enthusiasts title liquid coaster.
I have been sent the following video by the PR company for Sea world. From what you can see it looks like its going to be a hit with the park visitors.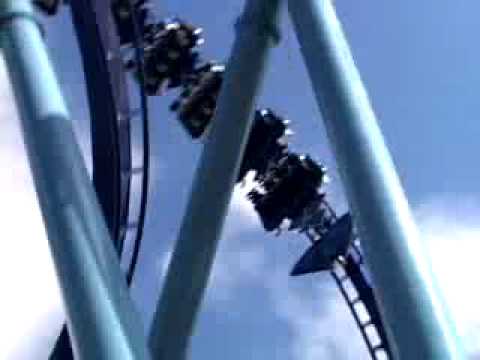 Manta is 3359ft in Length, with a height of 140ft with 4 inversions. Cant wait until September when I get to ride it 😉
Standing at over 300ft Millennium force dominates the skyline at Cedar Point in Ohio. The one time world record breaking coaster standing at an impressive 310ft has riders gasping in awe as they stare up at the huge skybound lift hill whilst waiting in the queue to ride.
I was fortunate enough to ride Millennium force a number of times during a visit to Cedar Point in 2007, we counted about 6 or 7 rides during our visit. After those experiences Millennium force dropped straight in at the number one spot as my favourite coaster.
Built in 1996, Mantis is one of the tallest and fastest stand-up scream machines in the world.
Built by Bolliger and Mabillard (B & M) Mantis is another unique ride experience at Cedar Point. Guests board stand up trains and fly down a 145-foot-tall first hill at a top speed of 60 mph.
This stand-up roller coaster turns riders upside down a total of four times, includes a 137-foot drop at a 52 degree angle.
I was fortunate to visit Disney in Florida back in February this year, and although i took a ton (literally) of photographs ive been stuck for time to post them.
Heres a selection taken of the dreams come true parade which was on mid afternoon in Magic Kingdom. For any Disney purists out there this isnt meant to be the full parade just a small selection of the photographs I had taken.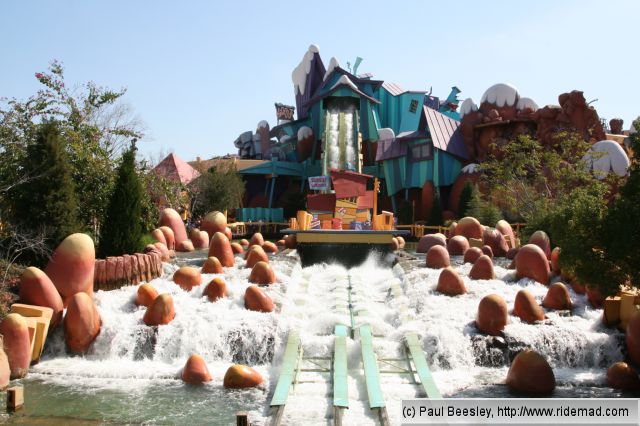 Dudley Do-Right's Ripsaw Falls®. Hop in your Log and Hang On! That villainous scoundrel Snidely Whiplash™ has made off with Nell Fenwick™! Will bumbling Dudley Do-Right™ save her in time? Will you stay dry when you plummet down Ripsaw Falls? Stay tuned for the watery conclusion of this side-splitting flume ride.
Taken from the Universal Islands of adventure website Dudley Do-Right's Ripsaw falls is one of the most eloborate over the top log flume rides I have ever had the pleasure of riding, Based in the toon lagoon area of the park you cant miss this ride and the buzz of the crowds as they line up on the bridge to take photographs.
Requested by a few readers over the last 6 months, Top Thrill Dragster photographs taken during my trip in 2007, its almost a year now since I took the 23hr door to hotel room trip to Cedar Point. Amazing how time flies as you get older.
Top Thrill Dragster was introduced to Cedar Point in 2003. It was made by Intamin and has a height of 420ft, at one point it was the highest coaster in the world, only to be overtaken in 2005 by Kingda Ka at Six flags great adventure, New Jersey at 456ft.
The ride has a top speed of 120mph which is reached in a breathtaking 4 seconds.
For those that requested here's some of my pictures taken during this trip. I hope you like them.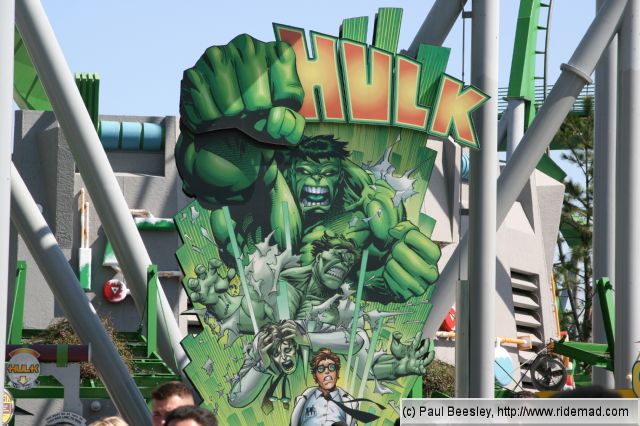 The Incredible Hulk was a coaster I was really looking forward to riding in Florida, located on the Marvel Super hero island themed area in Islands of adventure the hulk dominates the skyline, it can also be seen from most other areas of this superbly themed theme park.
Built by B&M in 1999 and with a top speed of 67mph the Hulk is still entertaining thousands of visitors daily.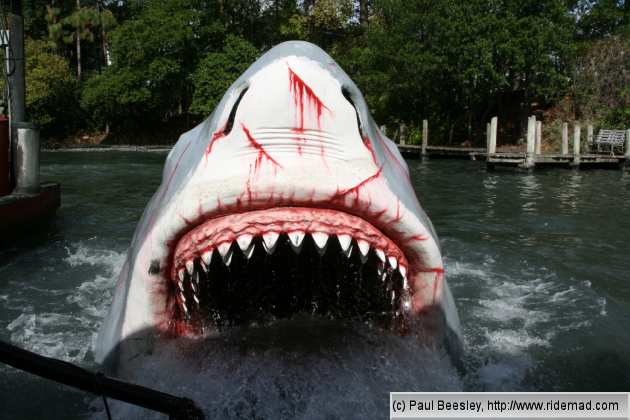 One of the most popular attractions at Universal Studios in Florida is Jaws the ride, considering its age its still drawing huge crowds. 
Offically opened in 1990 the attraction suffered some serious mechanical problems which took almost 3 years to iron out. 
The ride was redesigned during this time and following a soft opening in September 1993 it offically reopened in 1994. The ride was opened by two of the films stars Chief Brody (Roy Scheider) and Brody's wife (Lorraine Gray)
Out of all the rides and attraction at Universal Studios Jaws is one of those rides I had most looked forward to visiting. Im a huge fan of the Jaws films especially the first one and can still recall with anorak accuracy some of the most famous lines from the film. 
Disney's Hollywood Studios.
Is the third of the Disney theme parks built at Walt Disney World Resort Florida, opened in 1989 originally as Disney's MGM studios and later renamed in January 2008 at Disney's Hollywood Studios following a long running legal case with MGM.
The park is 135 acres in size and is layed out in several lands or themed areas around a central core which in this case is a huge sorcerers hat (belonging to Mickey).The park features some major 'dont miss' attractions like The Hollywood Tower Hotel and Rock 'n' Roller coaster featuring Aerosmith.
Ever since I watched the Kennywood memories DVD ive wanted to visit this park, im a great fan of traditional parks and my favourite park in the UK is as traditional as they get Pleasure Beach Blackpool.The Pleasure beach and Kennywood management have had a relationship going back many years and when I was researching some materials at the pleasure beach the correspondance between the two parks backed this up.Another reason for me visiting Kennywood was to see the only other Noahs Ark attraction in the world which is based at Kennywood.
Kennywood is located in Pittsburgh.
I've been visiting amusement parks/theme parks and fairgrounds for a number of years now and like the majority of coaster/park fans in the UK the American shores have always been a place to look forward to visiting.
Putting aside the obvious Disney and Universal parks second on the list for me has always been Cedar Point, they claim its the "Best amusement park in the world". Boasting 17 coasters and a wealth of other rides plus of course the sun shine and with the pound/dollar rates in our favour at the moment there has never been a better time to visit.
Categories

Pages

Archives

Enthusiast Sites

Trip Reports

UK Parks