After enjoying a great day at Drayton Manor last Christmas we repeated the experience again this year, the kids will shortly be coming to the age when Drayton Manor and Thomas land will no longer be cool so I intend to visit these Christmas events as much as possible.
The event changed slightly this year with the big top christmas pantomine show getting replaced by a show in Thomas land with singing and festive activities taking the center of this.
As with last year they had more snow and the children and adults in the audience really enjoyed this, the snow although synthetic made a great day even better and really gives you that festive wake up call that's been missing the previous 11 months of the year.
The zoo, 4d cinema and Thomasland were open and unlike last year the amount of food available on site was varied and most tastes catered for.
As with last year the focus of the event was Thomas land.
This is home to a great model railway and although it wasnt running on the day it looked superb.
Thomas Land station.
Ive purposely not included a load of Thomas Land photographs as any regular visitors will already know what it looks like, but if you want to see what this event was like last year (2008) then take a look at my post from the time. Thomasland Christmas 2008
here's a video to accompany this years trip.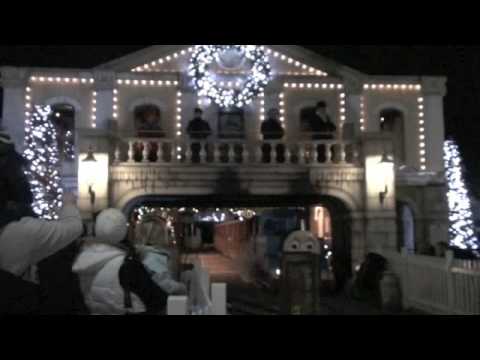 If you want to use any photographs then please dont steal them get in touch as im more than to share, I can be contacted paul@ridemad.com or via the contact form or comments box with each post.
Thanks for reading.