Well after been threatened with closure for a number years its finally happened Ocean Beach fun fair closed it gates for the last time yesterday (Sunday 2nd September 2007).
I wasnt suprised to see the park busy for its final day as press the mayor and a lot of local residents came to give the park a good send of.
Ive visited Rhyl since I was a little child perhaps 30 years or more and have fond memories of visiting the park with my family over the summer holidays.

After operating in the area since 1954 the fun fair become one of North Wales most visited tourist attractions. The park has suffered over the last few years though with the only recent addition been the Pepsi-Cola Looping coaster a Pinfari ZL42.
It was a sad day for me yesterday as I have visited Ocean Beach for the last 30+ years and I have some great memories as a child. None of them are very vivid mainly the smell of donuts, toffee apples and chips. But it was a place that kept my family visiting a number of times every summer. To many residents in the north west of england Rhyl, Towyn and Colwyn Bay were always somewhere we looked forward to visiting at summer. Looking back now we never had much money but we always spent the full day on the fair and come home with a belly full of fast food and sugar filled snacks.
The park has been on its last legs for a number of years though and after our visit last year and the year before I was suprised the park could open for another summer the visitor numbers were rock bottom and that was in the middle of summer.
What attractions were left in the end.
All of the attractions that were open at the start of the season were operational yesterday, heres some pictures of the fair on its last day. The weather was really bad yesterday and I don't think it stopped raining during the duration of our visit.
Waltzers.
Giant Slide.
Ghost Train.
Twister ride.
My two children enjoying the twister.
Juvenille Big Wheel.
Fun House.
Ski Jump.
Dodgems.
Star wars ride.
Nessie Kiddie coaster.
Terminator 3.
Jetstar Coaster.
Pepsi-Cola Looping coaster.
Water Chute.
Selection of Juvenille rides.
And finally some general views of the park.
Heres some comments about the fair from a reader Juliet and her family.
I spent lots of time there as a kid with my older sisters. They were usually getting chatted up by the ride operators..I got quite a few free rides just to keep me out of the way! I remember very fondly the Speedway, Caterpiller, The Roter (I never went on it…but it was my cousins favourite). I also remember from when I was little a Big Wheel, a large wooden Rollercoaster, A beautiful set of Gallopers (which seemed to vanish about 5 years ago!!). The Waltzer i spent many happy hours on burned down (can't recall when) but thankfully the replacement was just as good..its the one we rode on yesterday. The Helterskelter appears to be the same one its always been. The Twister I remember was an older, wooden model which was near the entrance to the park.
When I was in my early teens, me and my friends would get the train from Abergele into Rhyl to go shopping…usually spending our money on records. In the summer months (even after school!) we would take our new tunes to the fairground and ask the ops to play them for us while we were on the rides!
Happy times.
Happy memories.
I had a quick look on youtube and found a couple of Ocean beach videos.
The Water chute taken by David Ellis.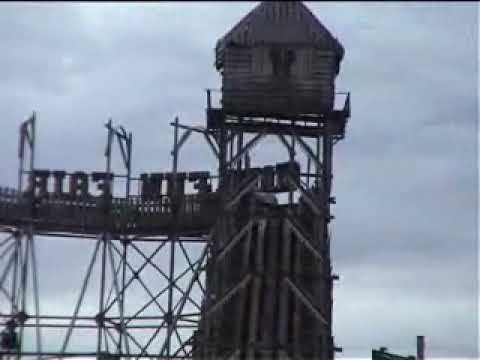 Jetstream Coaster taken by David Ellis.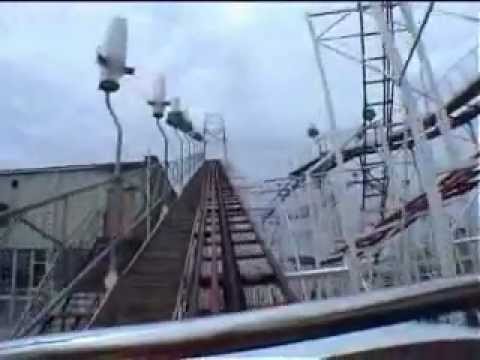 Pepsi Cola looping coaster taken by David Ellis.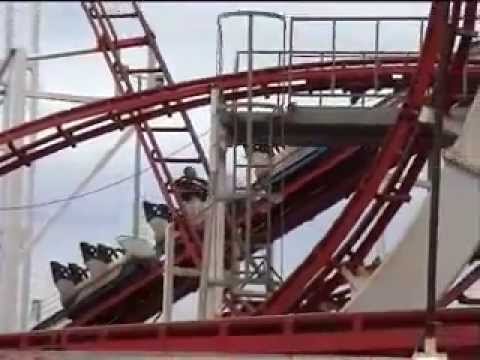 A video shot in 1982 and published by furiekins.
A nicely put together video by serialdownloader.
So whats happening to Ocean Beach.
As part of a 50 million pound regeneration plan the developers Modus based in Manchester have called the new development Ocean Plaza. It includes an 85,000 sq ft Asda supermarket, 40,000 sq ft of leisure space likely to be used as a fitness suite and bingo hall, offices, 60-bedroom hotel, bars, restaurants and cafes, 1,000 car park spaces and 180 apartments.
Heres a proposed view of how the site will look taken from Modus website.
I don't want to get really nostalgic about this but im really going to miss this park. I wish Rhyl Council good luck with the regeneration. 😉
If you have any comments or memories about this fair id love to hear from you.
Related articles and websites.
A Closer look at Rhyl's waterchute.
Closed Park archive on Ridemad.
Thanks to Juliet and David Ellis for the use of the materials.
If you want to use any photographs on this blog please get in touch paul@ridemad.com im quite happy to share and have high resolution copies of everything used, to see the complete gallery visit the Ridemad Gallery
Thanks for Reading.