First impressions.
Gullivers Warrington is a small park situated less than 2 miles from junction 9 of the m62 and is nestled in between some housing estates. Not that you would know this when on the park as all you can see is greenery and trees. The size of the park is ideal for the audience Gullivers wants to attract – young children and families.
On entering the park, you pass through a walkthrough to have your tickets checked with a gift shop on one side and a restaurant on the other. Once through the turnstiles a stage is located on the left that usually has one of the gullivers characters dancing with a couple of young girls trying to teach the children various party dances.
Theres normally a couple of characters walking around hugging kids and having pictures taken by mum or dad.
This is a general view when you enter the park, the pirate ship and antelope coaster can be seen in the distance. The lake isnt used for any water rides or activities, i dont know if they ever planned to use to the lake for anything. The fireworks event towards the end of the year has a bonfire burning on the opposite side of the lake.
Most theme parks these days are split into zones or themed areas and Gullivers Warrington is no different, theres a total of 9 zones in this park.
Main Entrance Plaza.
As soon as you enter the park through the main plaza you have the band stand with various activities through the day, A board next to the stand indicates the days events.
The Joker ride new for 2007
The Joker is new attraction for 2007 its a Mose Rides drop tower.
Gullivers World Railroad.
The main station for the park railway is located just outside the entrance plaza on the right, the railway runs around the park with the option of a stop at the lost world. Most people on this ride choose to stay on at the stop and do a complete loop of the circuit, arriving back in the main entrance plaza after a leisurely 5 minute trip around the park. Im a big fan of these rides it gives you a great oppurtunity to see the park and plan the days events.
Alices Wonderland.
Maze of cards.
This is a wooden maze and the outside of the maze is covered with playing cards, This attraction is for younger children and the walls of the maze are only about 4ft high so you dont loose your children.
Tea Cup Ride.
This is self explanatory, Tea cup rides are everywhere these days. Is there a starter pack for theme parks including the caterpillar coaster and tea cup ride.??
Veteran Cars.
Again most parks have these in one guise or another, they go round the circuit twice.
Western World.
A themed area based on the wild west.
Billy Bobs Bi-Planes.
This is a pretty large plane ride for children, you know the type with a control stick, push the stick to go higher etc..
Barrel Ride.
The barrel ride is similar to a waltzer/tea cup ride but you sit in barrels.
Flying raft.
normally seen as a flying carpet, you sit in a gondola facing forwards and the gondola is lifted up and span round, its quite gentle and like most things at Gullivers targetted at younger children, who adore it.
Play fort.
The play fort is what every 10 year old boy or girl would want in there garden a huge wooden structure to run around on with climbing nets, tunnels etc.. it could keep them entertained for a good hour.
Pony Ride.
Is a gentle pony ride on a elevated track, definately something for the pre 5yr olds.
Cowboy Town.
Cowboy Town is an attempt to create a cowboy town, to be fair to Gullivers they always do there best and im sure any young child in the area will love it.
It even comes complete with Sheriff's office and jail.
Theres not much going on just a collection of buildings and one catering outlet doing flame grilled burgers. You can also use this building for packed lunches as they have a seating around for about 60 people. During the summer months they also perform Punch and Judy shows in this building for no extra charge.
Runaway Train.
Located in the fort area of western world.
Smugglers Wharf
Antelope.
Gullivers own creation, this is a wooden coaster made by the park. Its not a bad coaster but it can be a bit rough and has been for a number of seasons now, I really wish they would sort out the rough patches of track, it doesnt help with the seats not having any padding on. its like/well is like sitting on a wooden bench, especially the final hill going into the station above, im sure the track isnt meant to flex this much.
Comfort aside though my own children like this ride and its the ideal choice and stepping stone to larger coasters for the younger children.
Pirate ship.
A Pirate ship but a bit smaller than a full size one you see on most parks, the seats and restraints can be a bit tight for anyone with a large build – so be warned.
Circus World.
Circus Ride.
The Circus ride is located in a large marque, it consists of 2 cars which travel around whilst various puppets/models perform stunts, its the cheapest of cheap but the children do enjoy it. Im fascinated how a park can house a ride in a tent.
Clown School.
Various staff members teach children how to do things like juggle, spin a plate etc. Great for the younger children and a welcome rest for the parents.
Ladybird Ride.
Classic childrens ladybird ride we have all seen.
Loppies.
Small Bikes, kids steer with there arms – very odd
Mini rides.
Theres a selection of mini rides aimed at under 5's
Counts Castle.
Dodgems.
Nothing much to say here, apart from its alwasy busy this ride, i have never seen the queue quiet.
Ghost house.
This is a walk through Ghost house, theres nothing scary in here really and the younger kids do enjoy it, be warned around halloween they start introducing staff into this attraction for some added scares – my eldest had nightmares about this.
Anyone for lunch ?. For any watchers of most haunted, NO they arent orbs just the reflection of the flash on the glass.
Carousel.
In the middle of the courtyard is a nice carousel based on two levels, loading and unloading on this ride takes an age for some reason.
Giant Slide.
A covered Giant slide, Collect your coconut matting race to the top and slide down, great fun.
Cycle Monorail.
This is a suspended monorail thats about 12ft above the ground, the cycles are 2 seater and you both pedal round, if your going on this with younger children be prepared, youll be knackered !!
Water world.
Loggers leap.
Is a play area which is suspended above water. It gets very wet and in the summer months its full of children.
Sand Area.
A small sand pit, ideal in the summer.
Log Flume.
A small log flume, dont expect to get soaked, its fun though especially for the younger riders.
Adventure World.
Wild Mine Ride.
My favourite ride in the park, similar to a wild mouse ride but you are in a mine train car.
Tree tops Swing.
This is a chairoplane, that doesnt swing too high becuase of the young audience. The operators encourage the kids to hold their arms out so they feel like they are flying.
Tarzans Climb.
This is a kids climbing frame, in the shape of a wigwam. I dont know where the tarzan reference come from.
Tractor Ride.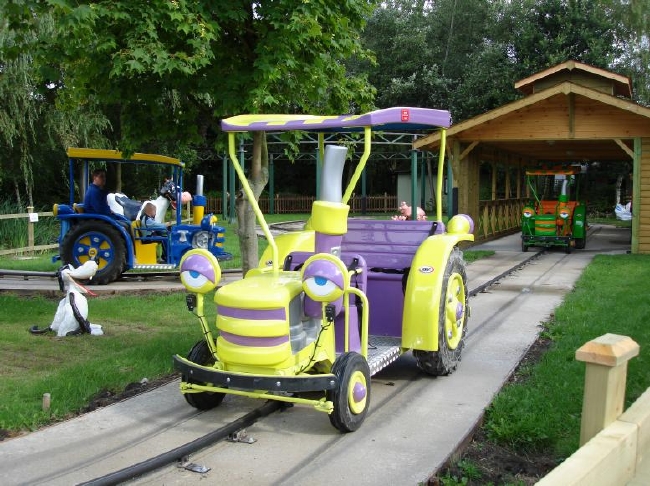 Tomb Raider – semi, nearly dark ride.
Tomb Raider is typical these days of a failing dark ride, when things dont work – throw on a couple of laser guns and chuck in a load of targets to shoot at. This is an awful dark ride, too slow, half the guns dont work, the targets are very poor and its very short. It is aimed at kids so I can't be too harsh about it.
Ball Crawl – Ball pit, you quite often seen more dads in here than kids.
Jungle Shoot.
A children version of a drop tower, kids sit 6 abreast, it goes up about 20 feet and drops with a few bounces here and there, this version is actually two machines side by side.
Jeep Safari.
River Ride.
The river ride is nicely themed you sit in round boats holding 4 people and its a gentle lazy trip through some nice scenary, there is a possibility you could be sprayed but so far i have managed to stay dry.
Lost World – Jurrassic Themed area.
The Carousel of evolution – New for 2007.
Just introduced to the park for this season, Carousel of evolution is a standard carousel split into 4 rooms, you start on the loading room and the room turns around in the attraction to the next room and so on. Theres 3 additional rooms and they tell the story of evolution via a doctor on a plasma TV and Gully the parks mascot.
At one point you get covered in soap bubbles.
Its not a bad attraction and it does have some education value, my kids at 10 and 6 enjoyed it and the other children who come of the ride with us did too. The complete ride takes about 15 minutes in total.
Dino Safari.
Small cars go around a jurrassic themed area full of dinosaurs.
Flight of the pteranadon.
This is an odd looking ride/roundabout you lie down and a cage comes over the top of you which locks you in, the ride then lifts up slightly and spins around, its meant to give the feeling of flight which it does pretty well and the kids seem to enjoy it. The ride does have a height restrictions so the younger children wont be able to ride. Judging by the people on the ride 8+ will probably be ok.
Sky tours observation tower.
The obversation tower is pretty good, similar to ones we have all seen before, it seats about 20 people in a caged platform and rises slowly on level with the tree tops, you get a pretty decent view of the park, it doesnt last too long but its an ideal addition to the park.
Dinosaur walkway.
this is a suspended wooden walkway through the park with dinosaurs on either side, it can sometimes look a bit overgrown but I guess thats the intention anyway.
They also have a 3d cinema in the lost world which is pretty good, but please Gullivers if your reading this repaint the screen please.
Refreshments.
Gullivers Warrington has sufficient food, drink and picnic areas. The park normally opens for 10:30-11:00 if you arrive after 9:30 you can get an adequate breakfast and a chance to meet the characters who quite happily walk around the restaurant at the main entrance. Prices are also reasonable for theme park prices. New for 2007 in the main entrance the restauraunt has now changed to a dining area with waiter service, the day we visitied we were offered a few meat choices and veg etc. The price is a bit off putting £5.95 per adult and £3.95 for kids with drinks on top of that, the food wasnt bad quality but the local pub serve a far better choice.
The park also welcome people with pack lunches and its quite common to see groups of Brownies, Rainbows and scouts sitting in groups eating packed lunches – the shack over at Cowboy world is ideal for this. We normally dont eat on the park as there is a local pub the memphis belle less than a couple of miles away, it also helps to break the day up.
Staff.
To me staff on a park are key to having a good or bad day, ive visited 2 of the 3 gullivers parks and all the staff are excellent, they really go out of the way to fulfil your needs and are all very good with the children. The parks tend to employ allot of older people as ride ops which works really well. The staff are certainly a compliment to Gullivers.
One thing which really annoys me about parents visiting these parks and others is the attitude of some parents towards the staff, rides have height limits for a reason to protect your children, please dont try and abuse this. Small children arent allowed on rollercoasters because they cant be restrained no amount of talking, swearing and trying to convince the ride ops will change this, please dont expect the staff to break the rules. The rules arent created by the ride operators. Every ride at this park with height restrictions has a chart before you enter the queue lines please check this before entering the queue.
Overall.
Gullivers is a great family day out, with the emphasis firmly on family. The park also runs events at Halloween, bonfire night and Christmas. At Christmas time the park gets dressed up with lights and it really does look magical. Last years Santas grotto had kids stood queuing with there mouths open looking at all the lights waiting to see father christmas.
When they get in to see father christmas he spent a couple of minutes asking the kids what they want for christmas, have you been good etc and then a photograph is taken and they are allowed to choose any present from a well stocked toy shop.
They also provide packages which can include Christmas dinner. I have always liked the attitude of Gullivers and there attention to the younger visitors, they really do make the kids feel special.
This trip report was based on 5 or 6 trips during the 2006 season and one at the start of 2007, I have aimed to be as accurate as possible. If you want to use the photographs for any reason please contact me paul@ridemad.com, dont just copy them. I do have higher resolution copies of all photographs and i'm more than happy to share.
Related articles : Gullivers at Christmas 2007
To see all the photographs from this park please check out the ridemad gallery
Thanks for reading