All Posts Tagged With: "Alton Towers"
I recently had the chance to go ghost hunting at Alton Towers. It was an event I originally booked back in 2010 but for health reasons I was unable to attend. I have loved Alton Towers from the first time I went as a child many, many years ago and when I realised they did out of hours ghost hunting events it was something I had to do.
The event was booked through Haunted Happenings who are one of the UK's premier ghost hunting companies. We arrived at Alton towers for 9pm and were advised by security to drive through the park and park the car next to the towers near the lake (this is eery in itself).
After stocking up on coffee for the long night ahead we sat through the safety breifing with the staff and went through the timetable of events for the evening.
Split into groups we were dispersed to various parts of the towers so at all times each group leader knew where the other groups are (no point in hearing footprints from another room when 20 people are walking about).
Opened in 2009 Manta is the third B&M coaster at Seaworld in Orlando. Manta is the second flying coaster I have ridden after Air at Alton Towers in the UK. I really enjoyed Manta and at the time of year we visited in September the ride had hardly any queues.
For anyone who hasn't rode I would recommend the back seat, its very intense and enjoyable.
I don't really have that much more to say about Manta other than if your in Florida and you get the change to ride it, enjoy it 😉
opened in 1994 Nemesis at a cost of ten million pounds quickly became a favourite coaster amongst enthusiasts and the public alike.
I dont count coasters or number of rides on a particular coaster but if i were to look back over the years to 1994 my count would be well into the hundreds if not more.
A trip to Alton towers just isnt the same without a ride on Nemesis for me and many other enthusiasts. I hope you enjoy the photographs.
For anyone that's a fan of dark rides especially the Haunted House or as its now known Duel at Alton towers there is only one real source for information about this ride and thats the haunted one website which has been updated recently.
There's obviously alot of fans out there as we got together some time ago and wrote an article based on a behind the scenes tour and some history which was provided by the haunted one, this article is one of the most popular on this website with consistently over 1,500 views a month.
If you havent seen the site lately, check it out. http://www.hauntedone.co.uk/
Good luck with the new site Mik, im sure it will be a great success.
Ive had this set of photographs lying around for some, Ive had a couple of offers from various people to publish them but I suppose ive been a bit selfish really and kept them to myself.
A bit of History about the ride. The Black hole is a Schwarzkopf Jet star 2 coaster with a length of 1919ft, Height of 44'3 and a duration of 1min 50 seconds. It was originally brought to Alton Towers as the Black hole in 1983 before going through a couple of name changes, New Black Hole, Black Hole 2 and finally back to Black hole again. The ride was closed in 2006.
So finally heres a set of photographs taken in July 2007 from inside the Black Hole Tent at Alton Towers.
I was looking at the Lightwater Valley website earlier and for 2008 they have a very intresting pricing option which is bound to save some visitors a fair bit of money.
If you book in advance you can get park admission for as little as £7.95 a great saving on the current 2008 gate price of £16.95, based on been over 1.3m.
Lightwater Valley has some great attractions and although its not as big as other theme parks like Alton Towers its a great option for a day out if you are in that part of the country.
Hex was included as part of a behind the scenes tour of Alton Towers I did with Club Pleasure Beach earlier this year. The tours included attractions like Rita, Duel and Air, ive just never got round to publishing this set of photographs.
This article isnt going to be a ride spoiler as such, more an in depth looking behind the scenes of one of the parks most spectacular dark rides.
Hex is a Vekoma Haunted Swing ride, it has operated at the park since 2000. Its located in the towers and well you cant really miss a big great tower.
Last July (2006) Alton Towers opened the Peugeot 207 driving school with the primary audience of under 10's. The attraction sponsored by Peugeot and costing the park £1m is based at the bottom of Cred street where a few other kiddie attractions are based. Its quite obvious from the description this is a driving school where kids not only drive small battery operated cars they also have the option of buying a driving license after the ride.
When queuing the kids all have their photographs taken and then they are lead out to a holding pen, once the pen is full the kids are walked through to the driving school where they get to pick their own single seat electric car. After a quick briefing by the staff the attraction is started on a 5 minute or so timer, after this period the cars just stop wherever they are and the kids get off and make way for the next bunch. In total they have about 20 cars operating at a time. Each car doesn't go any faster than walking speed.
I was fortunate enough to go on a behind the scenes tour of Alton Towers with fellow members of Club Pleasure Beach at the end of July earlier this year.
The tour consisted of a number of attractions including Duel, Hex, Air, Oblivion and the old Black hole site. One part of the tour I was looking forward to seeing was Rita the hydraulic launched coaster from Intamin which was introduced to the park in April 2005.
The tour consisted of a look round the maintenance areas, a look into the hydraulic room and the ride control room.
The arguement rages on over Duel vs the Haunted house and I don't think we will ever get a group of enthusiasts to agree which was/is better. For me personally it has to be the Haunted House and one of the reasons I wrote this article
Ive split this article in two, initially ill take a look at a behind the scenes tour done during July 2007 this will be followed up with some history and photographs of the haunted house written by the Mik the editor of the Haunted one.
Thanks to Club Pleasure beach I had the opportunity to spend the day doing a behind the scenes tour of Alton Towers back in July. The tour consisted of trips around workshops/rides and out of bounds areas and was a real an eye opener. In our group of 16-17 enthusiasts I dont think anyone was disappointed.
Air was built for the 2002 season at a cost of 12 million pounds and was opened on 16th March. Air is a coaster designed by John Wardley and constructed by Bollinger and Mabillard (B&M)
One of Alton Towers latest attractions as well as the Dung Heap kids area is Haunted Hollow, an in house project costing the park 250k. The Interactive walk through is using an existing short cut from Gloomy wood (opposite Duel) to Merrie England (near the boats). When I last visited the park during adrenalin week the attraction wasnt completed. During normal park operations this attraction isnt scary and even my youngest 5yr old found it quite fun. It should be fantastic if they use this area for the parks Halloween event later in the year from October 13th – November 4th. When the attraction first opened some of the gravestones were attacked by mindless vandels, Its nice to see Alton Towers has fixed these up again.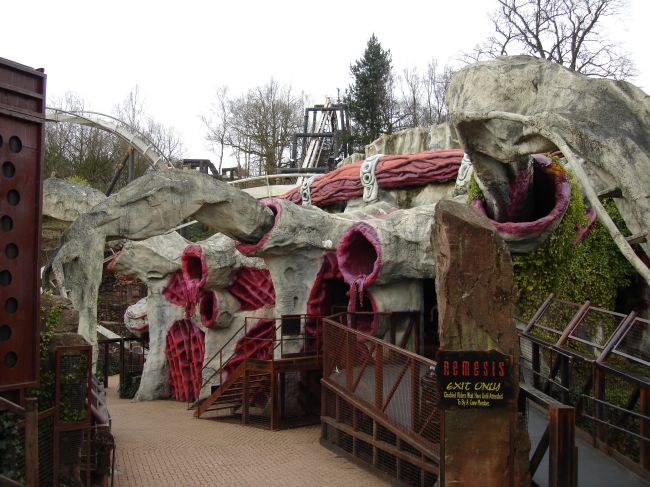 Just got back from a long day walking around Alton Towers for this years adrenaline week event. Crowds as expected were low and queues for the majority of the big attractions were at a minimum for most of the day. It was a boys outing today, no families or partners just rides, rides and a few more rides.
Remember a time when it was cool to have straight hair, stonewashed denim, t-shirts that changed colour when you got hot and spandex shorts. It was a time before B&M coasters graced alton towers and we had rides that were very tame in comparsion to todays launched and suspended coasters.
In 1992 a day at Alton involved long queues for rides like "The Thunder Looper" and "Corkscrew" the towers were open and you could walk around the whole towers getting lost. Here im going to take a trip back to 1992, I dont remember the date but it was sometime in the summer and id just bought my first SLR camera a Canon EOS 1000FN and didnt have a clue how to work it. For the trip id hired a brand new "Ford escort" which cost about £15.
Categories

Pages

Archives

Enthusiast Sites

Trip Reports

UK Parks