All Posts Tagged With: "Coaster"
Opened in 2009 Manta is the third B&M coaster at Seaworld in Orlando. Manta is the second flying coaster I have ridden after Air at Alton Towers in the UK. I really enjoyed Manta and at the time of year we visited in September the ride had hardly any queues.
For anyone who hasn't rode I would recommend the back seat, its very intense and enjoyable.
I don't really have that much more to say about Manta other than if your in Florida and you get the change to ride it, enjoy it 😉
New for the 2009 season at Lightwater Valley is a rapid ride rented from Showman James Mellor. The ride will be at the park for the 2009 season after which point both parties will review it's suitability for the park.
I visited the park in April on a warmish day and the ride has a constant queue with at least 15/20 minute wait times, I can imagine this will get alot bigger over the coming summer months when the temperatures rise in the UK.
The ride has took the place of the Pinfari Grizzly Bear coaster which stood at the park from 2004, this ride has since been sold. I certainly wont miss it.
This update contains approximately 25 photographs taking during April at the park.
I have been requested by a few visitors to include some pictures from my trip to Florida last year and if im honest Ive been a bit lazy posting some of these, one request is for Journey to Atlantis at Sea World.  I didn't get to ride this due to an ear infection picked up earlier in the week on some water other water rides. For anyone planning on visiting Seaworld in the near future from the reports Ive had its not a ride to be missed.
Originally installed in 1998 by Mack rides Journey of Atlantis is clased as a water coaster or as some enthusiasts title liquid coaster.
opened in 1994 Nemesis at a cost of ten million pounds quickly became a favourite coaster amongst enthusiasts and the public alike.
I dont count coasters or number of rides on a particular coaster but if i were to look back over the years to 1994 my count would be well into the hundreds if not more.
A trip to Alton towers just isnt the same without a ride on Nemesis for me and many other enthusiasts. I hope you enjoy the photographs.
l would like to thank a freind of mine Gordon Clinton-Lindop for allowing me to use these photographs of American adventure.
They were taken during the 1990 season and I know from comments to the site and emails its a park allot of people have missed.
I only got to visit the park once during its operation and that was the year before it closed.
The Vekoma boomerang coaster featured on the left  hand side was once classed as Britains best coaster after it opened in 1989.
For anyone that have never been to American Adventure theme park, it was built on the site of an old open cast coal mine and centered around a huge lake in the middle of the park. Some people believe the demise of the park came in 2005 when they re-themed the park as a family park and got rid of the white knuckle rides  including the Vekoma Boomerang coaster they named "the missile'.
Requested by a few readers over the last 6 months, Top Thrill Dragster photographs taken during my trip in 2007, its almost a year now since I took the 23hr door to hotel room trip to Cedar Point. Amazing how time flies as you get older.
Top Thrill Dragster was introduced to Cedar Point in 2003. It was made by Intamin and has a height of 420ft, at one point it was the highest coaster in the world, only to be overtaken in 2005 by Kingda Ka at Six flags great adventure, New Jersey at 456ft.
The ride has a top speed of 120mph which is reached in a breathtaking 4 seconds.
For those that requested here's some of my pictures taken during this trip. I hope you like them.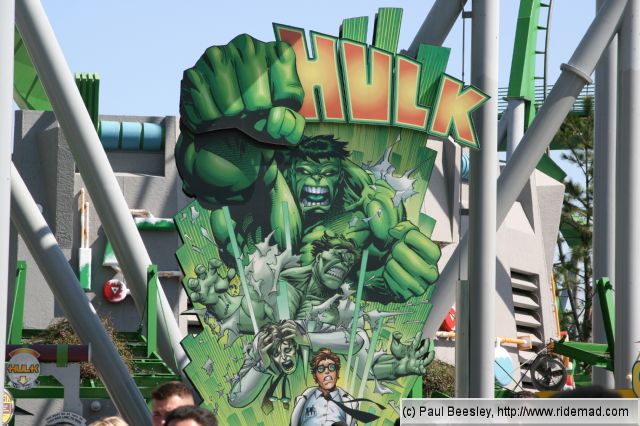 The Incredible Hulk was a coaster I was really looking forward to riding in Florida, located on the Marvel Super hero island themed area in Islands of adventure the hulk dominates the skyline, it can also be seen from most other areas of this superbly themed theme park.
Built by B&M in 1999 and with a top speed of 67mph the Hulk is still entertaining thousands of visitors daily.
Ive had this set of photographs lying around for some, Ive had a couple of offers from various people to publish them but I suppose ive been a bit selfish really and kept them to myself.
A bit of History about the ride. The Black hole is a Schwarzkopf Jet star 2 coaster with a length of 1919ft, Height of 44'3 and a duration of 1min 50 seconds. It was originally brought to Alton Towers as the Black hole in 1983 before going through a couple of name changes, New Black Hole, Black Hole 2 and finally back to Black hole again. The ride was closed in 2006.
So finally heres a set of photographs taken in July 2007 from inside the Black Hole Tent at Alton Towers.
If there's one thing that annoys enthusiasts more than wasps at theme parks it's queue jumpers, the people that can't read the huge "NO QUEUE JUMPING" signs and the ones at the back of the queue when god handed out brains. These people young and old seem to have no morals or respect for other people.

Even worse are the parks that plainly refuse to do anything about this annoying, rude and disrespectful practice that happens so commonly, even though its spelt out on the signage queue jumping will not be tolerated.
I was attending a Club Pleasure Beach event last weekend and whilst waiting for ERT to ride the Pepsi Max Big One after park close I took a walk around their latest coaster Infusion. I never realised they lit it up at night and more to the point how good it looks.
Infusion was brought to Blackpool late last year after the Blackpools sister park Southport Pleasureland closed down. The attractoion was known as Traumatizer when it was based in Southport.
Infusion sits on the site of the old Log flume at Pleasure Beach.
I was fortunate enough to go on a behind the scenes tour of Alton Towers with fellow members of Club Pleasure Beach at the end of July earlier this year.
The tour consisted of a number of attractions including Duel, Hex, Air, Oblivion and the old Black hole site. One part of the tour I was looking forward to seeing was Rita the hydraulic launched coaster from Intamin which was introduced to the park in April 2005.
The tour consisted of a look round the maintenance areas, a look into the hydraulic room and the ride control room.
During a recent Club Pleasure Beach event on Monday 14th May we were given the oppurtunity to take a look around Blackpools latest attraction the Vekoma SLC coaster called Infusion.
Infusion opened to the public on the 2nd May 2007 and every visit ive had to the park since has certainly brought the visitors in.
We got the chance to look at pretty much every detail of the ride from the 2nd train and underneath the platform its housed in too the loading bay and ride control panel, here are just a few of the pictures taken during this visit.
Now open, click here to see a complete behind the scenes tour
I love watching new rides take shape and infusion is no different. Ever since pleasure beach announced the closure of pleasureland and the replacement ride for the Blackpool log flume ive been heading up to Blackpool every couple of weeks to check the status at first the log flume demolition up until today when the ride is almost in service. Ive heard today from 3 different ride ops that infusion will open on Wednesday 2nd May 2007.
Apologies for the quality of the photographs, they were all taken with a mobile phone.
Categories

Pages

Archives

Enthusiast Sites

Trip Reports

UK Parks