All Posts Tagged With: "Coasters"
Standing at over 300ft Millennium force dominates the skyline at Cedar Point in Ohio. The one time world record breaking coaster standing at an impressive 310ft has riders gasping in awe as they stare up at the huge skybound lift hill whilst waiting in the queue to ride.
I was fortunate enough to ride Millennium force a number of times during a visit to Cedar Point in 2007, we counted about 6 or 7 rides during our visit. After those experiences Millennium force dropped straight in at the number one spot as my favourite coaster.
opened in 1994 Nemesis at a cost of ten million pounds quickly became a favourite coaster amongst enthusiasts and the public alike.
I dont count coasters or number of rides on a particular coaster but if i were to look back over the years to 1994 my count would be well into the hundreds if not more.
A trip to Alton towers just isnt the same without a ride on Nemesis for me and many other enthusiasts. I hope you enjoy the photographs.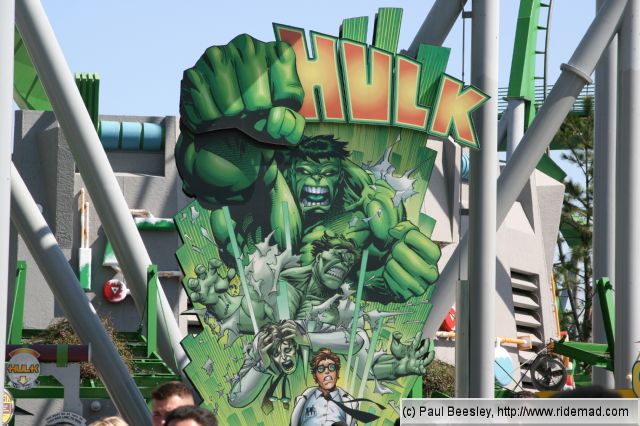 The Incredible Hulk was a coaster I was really looking forward to riding in Florida, located on the Marvel Super hero island themed area in Islands of adventure the hulk dominates the skyline, it can also be seen from most other areas of this superbly themed theme park.
Built by B&M in 1999 and with a top speed of 67mph the Hulk is still entertaining thousands of visitors daily.
I was fortunate enough to attend a club pleasure beach event in May which included a behind the scenes tour of a number of attractions including Infusion and Space Invader 2.
Space Invader 2 was originally called space invader when it arrived at the park in 1984, after been refurbished by Kumbak coasters in 2004 it reopened as Space Invader 2.
Anyone that remembers the original Space invader will remember the very uncomfortable and often bumpy ride.
Knightmare, one of the most anticipated coasters between enthusiasts finally opened this month with an offical media day launch on Friday 27th July. One of my Club pleasure beach friends Chris Hughes took the day off work and spent a few hours taking photographs at Camelot.
Thanks for Chris for the use of his photographs in this article.
I've been visiting amusement parks/theme parks and fairgrounds for a number of years now and like the majority of coaster/park fans in the UK the American shores have always been a place to look forward to visiting.
Putting aside the obvious Disney and Universal parks second on the list for me has always been Cedar Point, they claim its the "Best amusement park in the world". Boasting 17 coasters and a wealth of other rides plus of course the sun shine and with the pound/dollar rates in our favour at the moment there has never been a better time to visit.
Remember a time when it was cool to have straight hair, stonewashed denim, t-shirts that changed colour when you got hot and spandex shorts. It was a time before B&M coasters graced alton towers and we had rides that were very tame in comparsion to todays launched and suspended coasters.
In 1992 a day at Alton involved long queues for rides like "The Thunder Looper" and "Corkscrew" the towers were open and you could walk around the whole towers getting lost. Here im going to take a trip back to 1992, I dont remember the date but it was sometime in the summer and id just bought my first SLR camera a Canon EOS 1000FN and didnt have a clue how to work it. For the trip id hired a brand new "Ford escort" which cost about £15.
Having heard nothing but good things about Oakwood we decided to take the 5 hour journey to south wales in the summer of 2006. We visited for the weekend leaving on Friday afternoon with the intention of visiting Oakwood on the Satrurday and Folly Farm on the Sunday. We stayed just outside Tenby in a Travel Lodge which was central to both attractions and cheap.
Unfortunately for us and other visitors to Oakwood this was the wettest day of the year by far and we ended up completely soaked through to the skin within about 1 hour of arriving at the park and we still had another 9 hours until the park was closed.
Categories

Pages

Archives

Enthusiast Sites

Trip Reports

UK Parks