All Posts Tagged With: "Far Side"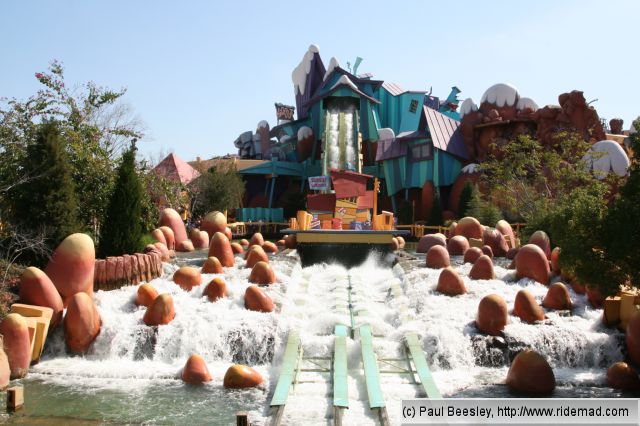 Dudley Do-Right's Ripsaw Falls®. Hop in your Log and Hang On! That villainous scoundrel Snidely Whiplash™ has made off with Nell Fenwick™! Will bumbling Dudley Do-Right™ save her in time? Will you stay dry when you plummet down Ripsaw Falls? Stay tuned for the watery conclusion of this side-splitting flume ride.
Taken from the Universal Islands of adventure website Dudley Do-Right's Ripsaw falls is one of the most eloborate over the top log flume rides I have ever had the pleasure of riding, Based in the toon lagoon area of the park you cant miss this ride and the buzz of the crowds as they line up on the bridge to take photographs.
Last July (2006) Alton Towers opened the Peugeot 207 driving school with the primary audience of under 10's. The attraction sponsored by Peugeot and costing the park £1m is based at the bottom of Cred street where a few other kiddie attractions are based. Its quite obvious from the description this is a driving school where kids not only drive small battery operated cars they also have the option of buying a driving license after the ride.
When queuing the kids all have their photographs taken and then they are lead out to a holding pen, once the pen is full the kids are walked through to the driving school where they get to pick their own single seat electric car. After a quick briefing by the staff the attraction is started on a 5 minute or so timer, after this period the cars just stop wherever they are and the kids get off and make way for the next bunch. In total they have about 20 cars operating at a time. Each car doesn't go any faster than walking speed.
Categories

Pages

Archives

Enthusiast Sites

Trip Reports

UK Parks