All Posts Tagged With: "Loading Bay"
This is a set of photographs taken during July 2008 of the Back lot tour ride at Disneyland Paris.
The ride is similar to the one at Orlando but the tour doesnt start on foot, each tour is done on the trams which you stay on until you return back to the loading bay.
Each trip lasts about 15 minutes and you have plenty of time for taking pictures during this trip.
I actually preferred this ride to the one we had done previously in Orlando back in Febraury, apart from been allot newer than the Orlando Back lot tour the duration was just right and didnt involve the pre show antics which are featured in Florida.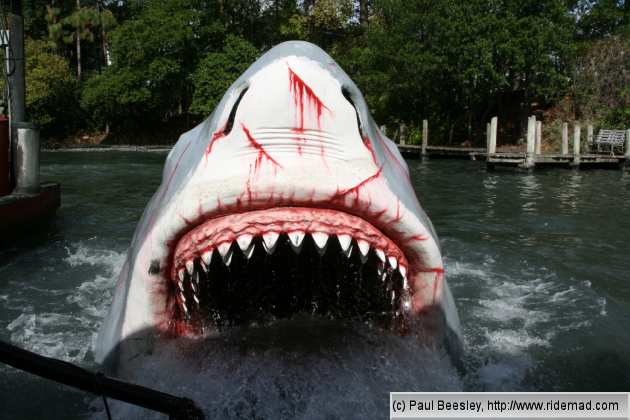 One of the most popular attractions at Universal Studios in Florida is Jaws the ride, considering its age its still drawing huge crowds. 
Offically opened in 1990 the attraction suffered some serious mechanical problems which took almost 3 years to iron out. 
The ride was redesigned during this time and following a soft opening in September 1993 it offically reopened in 1994. The ride was opened by two of the films stars Chief Brody (Roy Scheider) and Brody's wife (Lorraine Gray)
Out of all the rides and attraction at Universal Studios Jaws is one of those rides I had most looked forward to visiting. Im a huge fan of the Jaws films especially the first one and can still recall with anorak accuracy some of the most famous lines from the film. 
Ive had this set of photographs lying around for some, Ive had a couple of offers from various people to publish them but I suppose ive been a bit selfish really and kept them to myself.
A bit of History about the ride. The Black hole is a Schwarzkopf Jet star 2 coaster with a length of 1919ft, Height of 44'3 and a duration of 1min 50 seconds. It was originally brought to Alton Towers as the Black hole in 1983 before going through a couple of name changes, New Black Hole, Black Hole 2 and finally back to Black hole again. The ride was closed in 2006.
So finally heres a set of photographs taken in July 2007 from inside the Black Hole Tent at Alton Towers.
During a recent Club Pleasure Beach event on Monday 14th May we were given the oppurtunity to take a look around Blackpools latest attraction the Vekoma SLC coaster called Infusion.
Infusion opened to the public on the 2nd May 2007 and every visit ive had to the park since has certainly brought the visitors in.
We got the chance to look at pretty much every detail of the ride from the 2nd train and underneath the platform its housed in too the loading bay and ride control panel, here are just a few of the pictures taken during this visit.
Categories

Pages

Archives

Enthusiast Sites

Trip Reports

UK Parks