All Posts Tagged With: "Queue Line"
Requested by a few readers over the last 6 months, Top Thrill Dragster photographs taken during my trip in 2007, its almost a year now since I took the 23hr door to hotel room trip to Cedar Point. Amazing how time flies as you get older.
Top Thrill Dragster was introduced to Cedar Point in 2003. It was made by Intamin and has a height of 420ft, at one point it was the highest coaster in the world, only to be overtaken in 2005 by Kingda Ka at Six flags great adventure, New Jersey at 456ft.
The ride has a top speed of 120mph which is reached in a breathtaking 4 seconds.
For those that requested here's some of my pictures taken during this trip. I hope you like them.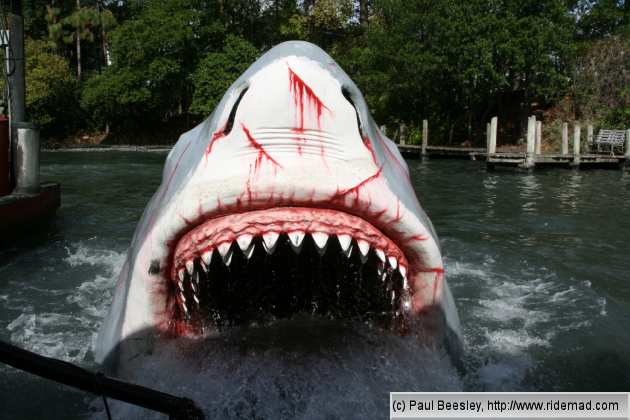 One of the most popular attractions at Universal Studios in Florida is Jaws the ride, considering its age its still drawing huge crowds. 
Offically opened in 1990 the attraction suffered some serious mechanical problems which took almost 3 years to iron out. 
The ride was redesigned during this time and following a soft opening in September 1993 it offically reopened in 1994. The ride was opened by two of the films stars Chief Brody (Roy Scheider) and Brody's wife (Lorraine Gray)
Out of all the rides and attraction at Universal Studios Jaws is one of those rides I had most looked forward to visiting. Im a huge fan of the Jaws films especially the first one and can still recall with anorak accuracy some of the most famous lines from the film. 
If there's one thing that annoys enthusiasts more than wasps at theme parks it's queue jumpers, the people that can't read the huge "NO QUEUE JUMPING" signs and the ones at the back of the queue when god handed out brains. These people young and old seem to have no morals or respect for other people.

Even worse are the parks that plainly refuse to do anything about this annoying, rude and disrespectful practice that happens so commonly, even though its spelt out on the signage queue jumping will not be tolerated.
Hex was included as part of a behind the scenes tour of Alton Towers I did with Club Pleasure Beach earlier this year. The tours included attractions like Rita, Duel and Air, ive just never got round to publishing this set of photographs.
This article isnt going to be a ride spoiler as such, more an in depth looking behind the scenes of one of the parks most spectacular dark rides.
Hex is a Vekoma Haunted Swing ride, it has operated at the park since 2000. Its located in the towers and well you cant really miss a big great tower.
After years of speculation it looks like the fun fair at Rhyl known as Ocean beach has closed its gates for the final time. I visited Rhyl twice in 2006 once at the start of the season and then towards the end of September when most rides had packed up, apart from the obivous 2 steel coasters the water chute was also standing.
A lapse in security allowed me to take a look around the Water chute for what may be the final time.
The water chute was originally brought to Rhyl from Kursaal Amusment park in southend in 1972.
After months of thinking about this wheel and never doing anything about it, I thought it was finally time to get my act together and make the trip up to York and try it for myself.
We couldnt have asked for better weather although cold the skies were blue and there was no sign of any rain. Admission costs are £6 per adult, £4 for children with under 4's free, you can also hire a pirvate "VIP" pod with tinted windows and a DVD sound system (some people have more money than sense), they say on busy days you could be sat in a pod with strangers but today it was busy (for a Saturday in Jan) and we sat on our own with most pods containing 2 or 3 people. Queue time approx 20 minutes. Im sure it gets mad in the summer 😉
Categories

Pages

Archives

Enthusiast Sites

Trip Reports

UK Parks