All Posts Tagged With: "Theming"
We normally only visit one theme park around christmas time and that's Gullivers world in Warrington, but for a change this year we considered visiting Drayton Manor when they announced Thomas Land would be open in the run up to Christmas.
With a promise of snow and entertainment it was too hard to resist, plus my 7 year old daughter is a comeplete Thomas addict.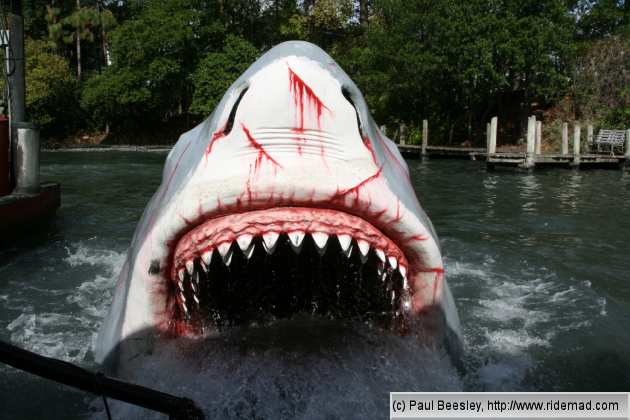 One of the most popular attractions at Universal Studios in Florida is Jaws the ride, considering its age its still drawing huge crowds. 
Offically opened in 1990 the attraction suffered some serious mechanical problems which took almost 3 years to iron out. 
The ride was redesigned during this time and following a soft opening in September 1993 it offically reopened in 1994. The ride was opened by two of the films stars Chief Brody (Roy Scheider) and Brody's wife (Lorraine Gray)
Out of all the rides and attraction at Universal Studios Jaws is one of those rides I had most looked forward to visiting. Im a huge fan of the Jaws films especially the first one and can still recall with anorak accuracy some of the most famous lines from the film. 
Ive had this set of photographs lying around for some, Ive had a couple of offers from various people to publish them but I suppose ive been a bit selfish really and kept them to myself.
A bit of History about the ride. The Black hole is a Schwarzkopf Jet star 2 coaster with a length of 1919ft, Height of 44'3 and a duration of 1min 50 seconds. It was originally brought to Alton Towers as the Black hole in 1983 before going through a couple of name changes, New Black Hole, Black Hole 2 and finally back to Black hole again. The ride was closed in 2006.
So finally heres a set of photographs taken in July 2007 from inside the Black Hole Tent at Alton Towers.
Categories

Pages

Archives

Enthusiast Sites

Trip Reports

UK Parks